The activities that we offer vary depending on the season, the number of learners, their wishes and also what we would like to do. They are therefore not all programmed in advance. The ideal times are from April to July and from September to mid-November. However, some of them are proposed regularly, like the "Cinema outings" and our "Meetings round a meal table". We organise these different activities so as to share some fun and friendly time with you. The only financial contribution requested is for the professional services at the places we visit (cafés, restaurants or vineyards).
Meeting new friends
Our meetings round a meal table
At the School
Sometimes, after the lessons, our main classroom turns into a restaurant in which to spend a warm and friendly time together when there's an event like the City's 14th July fireworks, to celebrate the end of a course, or to discover a regional dish that we've cooked. Fun guaranteed!
In Carcassonne's tapas-bar
We love this sort of restaurant which offers a variety of small dishes that we can all share together, accompanied by our regional wines, all at reasonable prices and in a convivial atmosphere.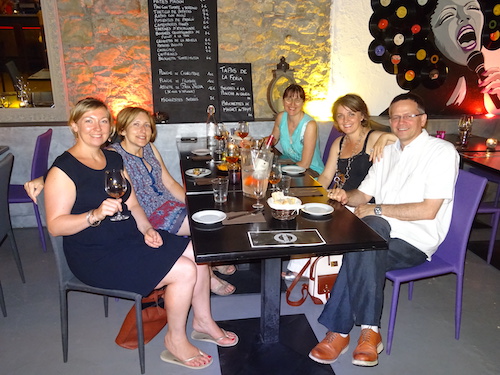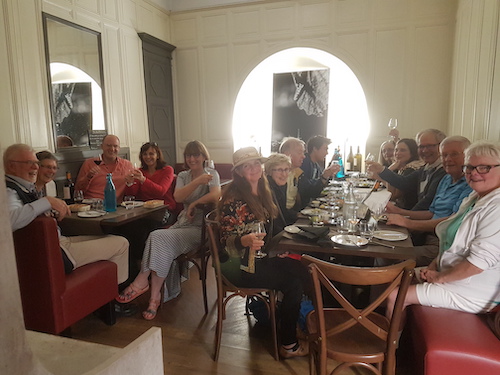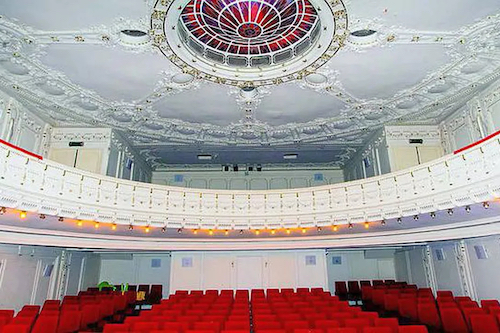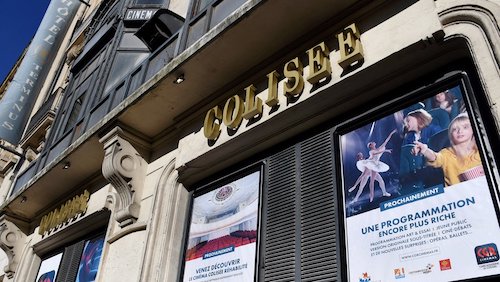 Culture and entertainment
Our cinema outings to the CGR "Le Colisée" in Carcassonne.
Depending on what's showing, the national and international news, and what our students would like, we regularly suggest a joint outing to see a film. This activity is possible for everybody regardless of their level of French as, apart from some films that are in French audio, all the others are shown in the original version, subtitled in French.
So don't hesitate to join us for a fun, cultural and entertaining time that will very often end at a bar or a restaurant !
Pleasures of the palate among friends
Our vineyard trip
This is a trip to a winemaking estate about 30 kilometres from Carcassonne, organised by the winemaker himself with his own commentary and followed by a tasting of his wines. You'll have the chance to experience a winemaker's life for a few hours and discover his land. You'll learn a lot and enjoy a frank and unaffected meeting.
The trip takes from between an hour and a half to three hours, with a walk that lasts about 45 minutes.
Before this trip, Dominique, the teacher, will be happy to teach you this theme in class so that you can make the most of this time spent discovering gourmet pleasures in a friendly atmosphere.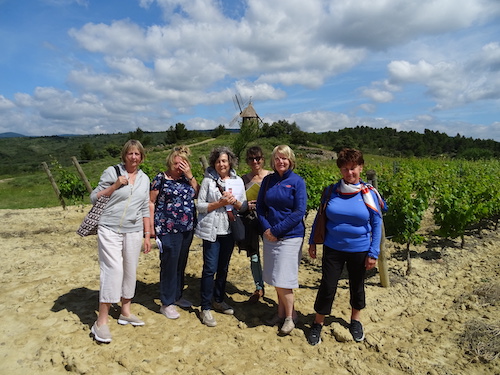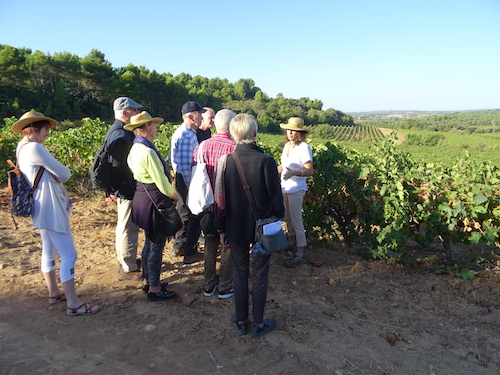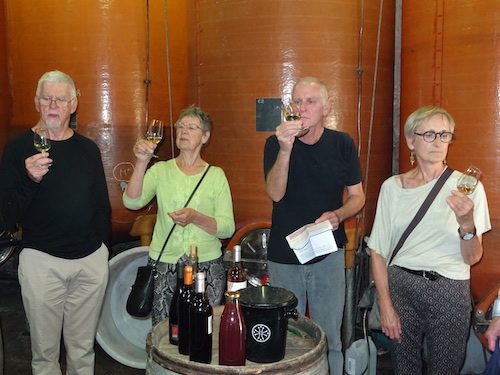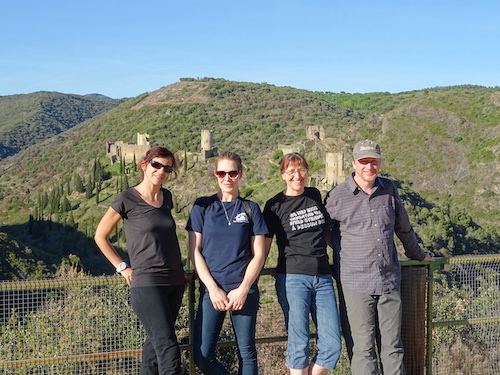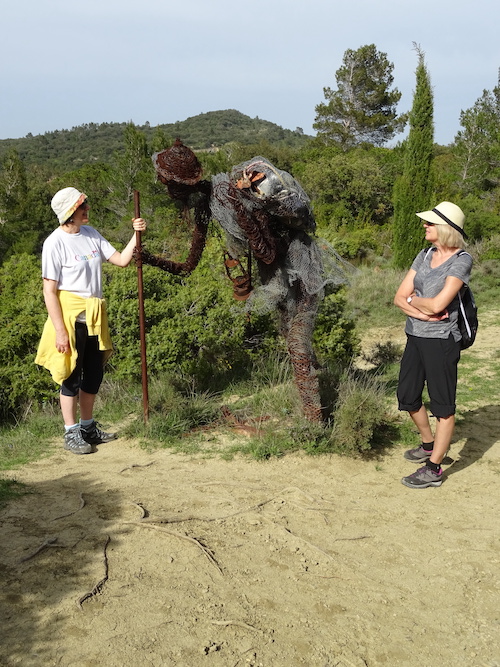 Sport and discoveries
Our rambles around Carcassonne
These rambles are organised for courses that last more than a week because they take place only at weekends (usually on Sundays). They are offered in the summer season and to suit what the students and the teacher would like to do. They are seldom organised in advance and often chosen on the spur of the moment.
Our region is full of trails to walk for a few hours or even a day. Between stone and water, plain and mountain, you'll discover our heritage and our extremely varied landscapes. The hardest thing to do is to choose!
Feedback from past students
Intensive course for 1 week, September 2018
Follow the guide!
On the first September I travelled from St Pancras Station, London to Carcassonne, where I was to spend 8 days, which included a five day French language course. The whole package of teaching and accommodation was arranged by Ludo Expression. Carcassonne, an historic town an hour's train journey south of Toulouse, is the perfect backdrop for a language course. Its wonderful castle (Old City) is a symbol of Carcassonne's fascinating and rich history and the town itself is charming, with the wonderful Place Carnot the hub at its centre. Here, you find all types of restaurants and cafes which provide an excellent variety of food and beverages at a very reasonable price, the centre of the town is less than a five minute walk from the school and very pleasant for lunch, dinner or a late afternoon glass of wine or two and a great for that vital post-class practice. Our class comprised six students and the mix of age, personalities and language levels worked very well indeed…
Cours semi-intensifs de 3 semaines, Août 2016
Ambiance familiale
J'ai décidé de passer trois semaines à Carcassonne après avoir regardé un documentaire sur France 3. Oui !!! Le magazine Météo à la Carte a émis un reportage très charmant en 2015. Quand cet été est arrivé je ne savais pas où je pouvais aller. Un jour je me suis souvenue de la belle Carcassonne. De plus, en septembre je devais faire les épreuves de français à l'école de langues à Vigo. Donc, pourquoi ne pas chercher un endroit pour profiter de Carcassonne en apprenant le français ?… Ludo Expression apparaissait sur Google. Pendant trois semaines de cours intensifs, j'ai beaucoup appris : la vie quotidienne en France, la grammaire, le vocabulaire et les expressions typiques. J'ai eu l'opportunité d'y connaître autres étudiants très gentils en provenance de différents pays. Mais la chose la plus importante est l'ambiance familiale avec laquelle Dominique développe le cours. Je me suis sentie comme si j'étais chez moi. Comme si nous nous connaissions depuis longtemps. Dominique fait tout pour aider ses étudiants…
Intensive course for 3 weeks, April 2018
I made my dream come true
My lifelong dream has been to study French in Carcassonne. At the age of 58, I decided that now was the time to realize my dream. I located Ludo Expression online, and from the description I knew that it would be the perfect fit for me. It was!!! I enjoyed 3 wonderful weeks in Carcassonne taking the intensive course at Ludo Expression. Dominique was a fantastic instructor: kind, encouraging, patient, fun, humorous, and highly skilled, and she didn't let me get away with speaking English! She spoke in slow French for me and listened with interest as I spoke in slow French. It was encouraging for me to be able to discuss interesting topics in this manner. From our conversations she easily picked out my grammar needs and taught me helpful lessons on the board. Dominique and her husband, Luc, were so kind, welcoming, and helpful to me. Additionally, they fit in time for fun! We enjoyed a special hike together and a fun evening at a restaurant for a drink and tapas…